What is CaseTrust ?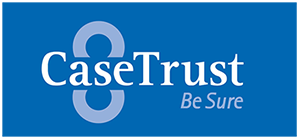 CaseTrust is the accreditation arm of the Consumers Association of Singapore (CASE), and is Singapore's de facto standard for companies who wish to demonstrate their commitment to fair trading and transparency to consumers. The accreditation is provided for various industries
Spa and Wellness
Motoring
Jewellery Business
Renovation
Storefront
Direct Selling Business
Hair and cosmetology
Being CaseTrust accredited reinforces your business commitment to your customers. This recognition further instills consumers' confidence in your products and services, resulting in increased consumer loyalty and repeated patronage for your business.
Benefits of getting CaseTrust for businesses:
Greater Exposure through CaseTrust's publicity efforts for its accredited businesses
Coverage through advertising and publicity campaigns by CASE
Joint Advertising campaigns
CASE quarterly magazine "The Consumer" with circulation of over 4,000 readers
Ride unto CASE related articles on newspapers and television programmes
Free listing on CaseTrust website
Gain immediate recognition by consumers as a business they can trust.
Prepares merchants for the Consumer Protection (Fair Trading) Act, thereby having a Competitive Edge over non-accredited businesses